This email address is being protected from spambots. You need JavaScript enabled to view it.
RALDataH is a data logger- meter for relative humidity and ambient temperature: it uses HTProbe connected to the instrument with a 1.5 meter long cable. The measured values are displayed on the display and on the acquisition software DataH provided free with the instrument.
A microprocessor controls the system: the operating parameters, displayed on a backlit LCD display, can be selected from the keyboard or via the USB port (type B) which communicates with an acquisition computer on which you installed the program DataH. The management software displays the graphic trend in the time of the relative humidity, and the point values of humidity and ambient temperature expressed in [% RH] and [°C].
It is possible to automatically record data without using a PC (Data-Logger mode) by entering an external USB flash memory stick to the USB Type A port: if programmed for continuous transmission, RALDataH periodically records on the memory the samples measures together with time information obtained from the internal clock-calendar module (RTC: Real Time clock) with back-up lithium battery.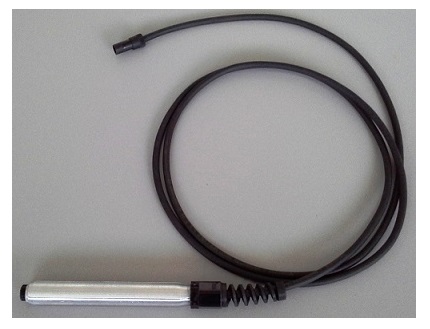 Humidity and temperature probe HTProbe with 1.5 meter long cable.
Technical Features
Dimensions: [105L x 50H x 185P] mm.

Weight: around 0,5 kg.


Measurement of the relative humidity with calibrated sensor (inside the HTProbe)

Measure range: 0

÷ 100 %RH;



Measure accuracy (from 10 to 95% RH):

±

3%RH Typ. (

±

5%RH Max.);

Temperature coefficient (from 10 to 50°C): -0,05%RH/°C Typ. (-0.1%RH/°C Max.);

Hysteresis of the sensor:

±

1%RH;

Time constant of the sensor (from 33% to 75%RH): 10 s;

Sensor resolution: 0,4%RH;


Measurement of the ambient temperature with calibrated sensor (inside the HTProbe)


Measure range: 2

÷ 100 °C;



Sensor's response: 10mV/°C;

Accuracy (a 25°C):

±

0,2°C Typ. (

±

0,5°C Max.);

Non-linearity:

±

0,25°C Typ.


Input bandwidth: 0 - 1 Hz.

Programmable measurement integration constant: from about 0.043 up to about 43.7 seconds.

Nominal measuring Resolution [ADC_count]: 14bit.

Probe with relative humidity capacitive type sensor and silicon temperature sensor.


Alphanumeric backlit LCD display 2 lines x 8 characters to display the measurements.

Control keyboard for manual setting of functions.

Microprocessor for the managing of the tool.

Internal Clock-calendar RTC (Real Time Clock) with back-up lithium battery.

USB port (Type B) used for connection to a PC with proprietary communication protocol.

Software DataH for the measurements' acquisition, graphic visualization and record.

USB port (Type A) used for connection with an external flash memory (USB stick). It enables automatic recording of samples without the connection to the PC: Data-Logger function.

Synchronization of the internal clock-calendar with the one of the PC.

Data Registration period on a USB flash memory stick: programmable from 1 to 255 seconds.

Power supply: 12 VDC - 120 mA (Max).

Protection against polarity reversal of the supply voltage.

Network Adapter included: input 100-240 VAC - 50/60 Hz, output from 3 to 12 VDC – 7,2 VA max (600 mA must be set to output at 12 VDC).