ULTRASONIC TANKS FOR CLEANING AND SURFACE FINISHING APPLICATIONS.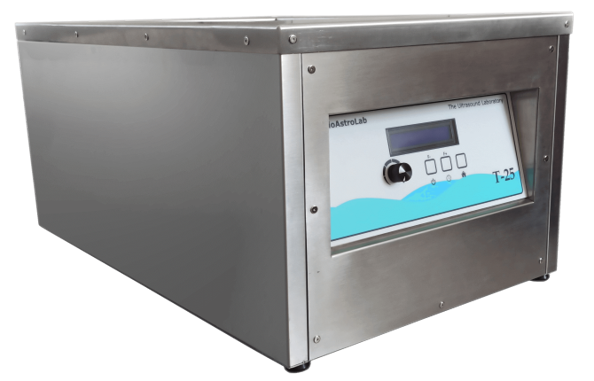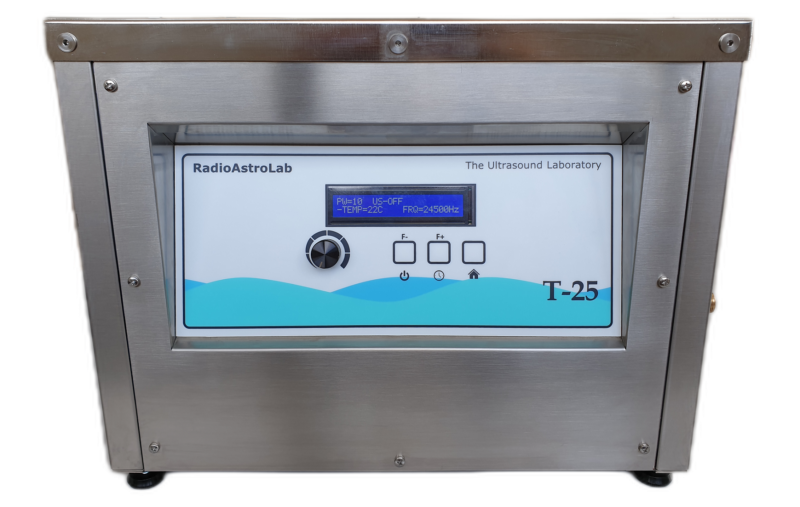 Ultrasound cleaning is a state of the art technology that involves high power cavitation diffusion in a liquid solution. As of today, it represents the only means to satisfy some the most challenging and complex requests for the cleaning of mechanical parts, objects with a complex shape, professional, medical and industrial tools. Combine our ultrasound tanks with an adequate washing temperature and detergent and your parts and objects will shine like new.
The ultrasound power is generated by a group of piezoelectric transducers that, powered by an electrical current and set to a certain frequency, produce a mechanical vibrational energy. This is how millions of microscopic bubbles form and implode because of the pressure variations generated by the ultrasounds. This process non only cleans all kinds of surfaces, but also the smallest cavities and holes of complex objects.
Power and frequency are chosen based on the material of the items and the size of the ultrasound tank: small and delicate materials like eyewear, jewellery, gold and medical equipment will generally be treated at a low power and high frequency, whereas resistant and bigger mechanical parts will require higher power and lower frequencies. Typically, the frequencies used in these kinds of applications vary from 22KHz to 60KHz.
OUR ULTRASOUND WASHING SYSTEM, RESISTANT AND INNOVATIVE, IS EQUIPPED WITH A GENERATOR OF OUR OWN PRODUCTION WHICH GUARANTEES HIGH PERFORMANCE BY USING SPECIFIC MICROPROCESSORS FOR TRANSDUCER CONTROL, ALLOWING FOR OPERATIONAL PARAMETER SETTING AND ADDITIONAL FUNCTIONS.
UPON REQUEST SPECIFIC BEESPOKE FUNCTIONS CAN BE ADDED.
THE CONTROL PANEL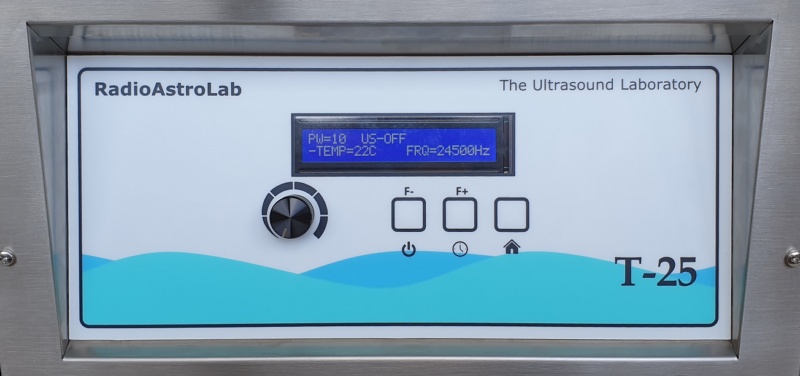 The T-25 tank control panel includes:
Knob for power variation (and other parameters when the system is in programming mode):
START-STOP button for ultrasounds; In frequency setup mode it decreases the value.
TIMER SETTINGS: button for TIMER activation and automatic stop; in frequency setup mode it increases the value.
HOME button to access parameter setting mode, including TEMPERATURE regulation.
LCD display (backlit, with white digits on blue background) for viewing operating parameters.
GENERAL CARACHTERISTICS OF ULTRASOUND TANK T-25
Made from stainless steel, hygienic, corrosion resistant and easy to clean;
Internal size (cm): 450x350x200h;
External size (cm): 720x430x330h;
Weight: approximately 25 kg;
Accessories provided: stainless steel basket for objects, power cable, drain valve, 1 container of detergent;
The tank is fitted with a high-performance generator of our own production, controlled by a microprocessor for intensive use, high performance piezoelectric transducers and an automatic forced ventilation system;
Power supply: 230Vac-50/60Hz;
Heating system electrical power: 900W;
Maximum power absorbed from mains: 2300W (US power + heating system);
Nominal US generator power: 700W;
Ultrasound generator frequency: adjustable from 23,5KHz to 25,5KHz;
Automatic limitation of max power available (set by producer);
Automatic protection against power circuit overheating;
Automatic modulation of operating frequency (SWEEP);
Front control panel;
A control system constantly monitors the generator's operating conditions and aborts functioning in case of overheating, overflow of electrical current or detected faults (in case of an error in the temperature measurement procedure);
Our tank is classified, upon request, in the 4.0 industry category, as it is compatible with remote control and setting (via ethernet) of certain parameters: ultrasound on/off, temperature measurement, timer start and power setup. Upon request it is also possible to implement specific functions for bespoke applications;
POSSIBLE APPLICATIONS
Our ultrasound cleaning system can be use to clean almost everything. The following is only a list of the most frequently treated objects:
Plugs, arrays, drills and cutters;
Carburettors;
Jewellery (gold, silver and platinum);
CD's and DVD's;
Medical equipment;
PCB's;
Motor components (bikes, motorbikes, cars and more);